Gabriel is Houston's first Comfort Dog. Follow him on Facebook at Gabriel Comfort Dog.
We welcomed Gabriel to our congregation in November 2017. He assists us in our caring and outreach ministries through activities such as:
Hospital and nursing home visits
Presentations for local groups (Boy Scouts, Girls Scouts, seniors groups, church groups, etc.)
Working with school counselors and at-risk youth
Visiting combat veterans at Camp Hope
Visiting Houston Police and Fire Department personnel
Attending community events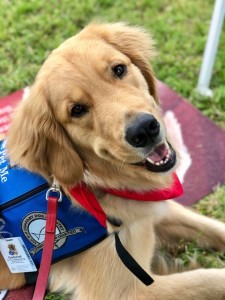 Although Gabriel is Houston's first Comfort Dog, he is one of more than 100 dogs placed in Lutheran churches across the nation to serve in their local communities. These dogs are all part of the K-9 Comfort Dog Ministry of Lutheran Church Charities.
The Comfort Dog Ministry is a nationwide program that utilizes the unique skills of highly trained Golden Retrievers to offer mercy and compassion to young and old alike. Unlike service animals, the Comfort Dogs can be petted and hugged. They serve as a bridge for ministry and outreach.
Pastor Engel began his work with the Comfort Dog Ministry in 2009 in his former church in northwest Indiana. His involvement with this ministry has included disaster deployments to places such as:
New York and New Jersey after Hurricane Sandy (November 2012)
Newtown, CT, following the Sandy Hook School shooting (December 2012)
Moore, OK, after the May 2013 tornadoes
Baton Rouge, LA, in the aftermath of the ambush shootings of police officers and massive flooding a month later (summer 2016)
Sutherland Springs, TX (Gabriel's first disaster deployment), after the shooting at the First Baptist Church (November 2017)
Parkland, FL, in response to the school shooting at Marjory Stoneman Douglas High School (February 2018)
Santa Fe, TX, in response to the shooting at Santa Fe High School (May 2018)